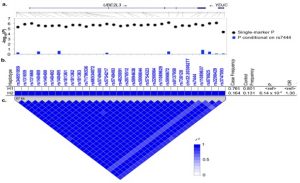 We capitalize on the vast wealth of publically-available genomic and transcriptomic data to guide our hypothesis-driven investigations into the functional implications of four lupus risk loci identified by GWAS:  TNFAIP3, TNIP1, UBE2L3, and IRF5.
We employ standard molecular approaches, such as electrophoretic mobility shift assays (EMSAs), chromatin immunoprecipitation (ChIP), immunoblotting, and luciferase assays, in various immune cell models to characterize the functional impact of risk variants predicted to influence the expression of these genes in SLE.  We are also actively developing CRISPR-Cas9 genomic engineering tools and inducible pluripotent stem cell lines to explore the significance of the risk variants in an isogenic background, thus eliminating confounding influences caused by additional variants each risk locus.
In addition to investigating the effects of a potential causal variant on the expression of the most proximal gene, we are also now capable of predicting potential long-distance interactions between a risk variant and the distant enhancer-promoter regions that it may influence by generating contact, i.e. looping, diagrams of the 3D genome.  3D genome analysis is proving powerful for the identification of unsuspected distant candidate genes whose expression is altered by risk variants and gaining mechanistic insights into how risk variants influence the expression of identified target genes.