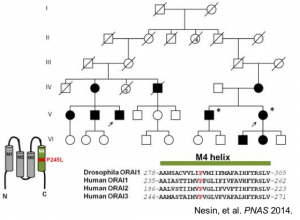 Advances in exome sequencing have allowed for unprecedented successes in identifying mutations that result in Mendelian diseases. In collaboration with genetics colleagues at the OUHSC, we have developed an exome sequencing pipeline that, when combined with careful clinical phenotyping, identifies causal mutations and diagnoses families with Orphan Mendelian disorders:
1) We identified two novel mutations in RBPJ that cause the rare genetic disease, Adam Oliver Syndrome (Hassed, et al. Hum Genet 2012 );
2) We identified constitutive gain of function mutations in STIM1 and ORAI1 that explain Stormorken syndrome, a disease characterized by tubular myopathy, platelet dysfunction, and congenital miosis (Nesin, et al. PNAS 2014);
(3) We identified four recessive mutations in the KEOPS complex subunits OSGEP, TP53RK, TPRKB, and LAGE3, that are causative to Galloway-Mowat Syndrome, a lethal autosomal-recessive disease with characteristic primary microcephaly with nephrotic syndrome (Braun, et al. Nat Genet 2017).