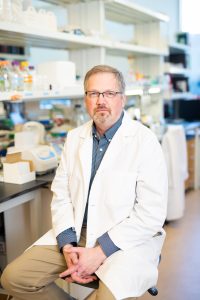 Dr. Patrick M. Gaffney serves as Chair of the Genes and Human Disease Research Program and holds the endowed J.G. Puterbaugh Chair in Medical Research at the Oklahoma Medical Research Foundation (OMRF).
Since joining OMRF in 2007 from the University of Minnesota, Dr. Gaffney has led many complex and collaborative efforts to develop and use state-of-the-art high-throughput sequencing technologies to explore the genetic, genomic and epigenetic factors that influence human health and disease. In 2009, Dr. Gaffney founded the OMRF Clinical Genomics Center with the support of an NIH IDeA COBRE award to ensure all investigators at OMRF, the University of Oklahoma Health Sciences Center (OUHSC) campus, and in Oklahoma have access to the high-throughput sequencing technologies necessary to develop innovative research strategies and make groundbreaking genetic discoveries related to human disease. Dr. Gaffney has successfully cultivated a collaborative environment within his own research team, the Clinical Genomics Center, at OMRF/OUHSC, and internationally that has resulted in more than 152 publications and 39 grants. Click here for more detailed information about Dr. Gaffney's ongoing research.
In addition to his scientific successes, Dr. Gaffney has served as an associate editor for Arthritis & Rheumatology, an ad hoc reviewer for several additional scientific journals, a recent standing member of the NIH Hypersensitivity, Autoimmune and Immune-mediated (HAI) Disease study section, and an ad hoc reviewer for several other NIH study sections.
Lastly, Dr. Gaffney is also an active advocate for and mentor of the next generation of scientists. He is currently the co-director of the M.D./Ph.D. training program at OUHSC and is an adjunct professor in the OUHSC Department of Pathology. He has served as a thesis advisor for 7 graduate students (1 current), scientific and career mentor for 9 postdoctoral fellows, research mentor for several summer research fellows (medical fellows, rotating graduate students, and undergraduate summer interns), and scientific advisor on numerous graduate student committees. Further, as Chair of the Genes and Human Disease Research Program, he also serves as a scientific and career mentor for many of the early career-stage principal investigators at OMRF.